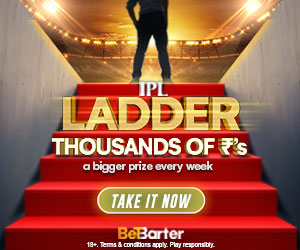 Kaun Banega Crorepati is the longest-running and the most popular Indian television game show. The show is changing the lives of common people since 2000. Amitabh Bachchan has become the face of KBC after hosting the show for two decades. This year too the show has been as excited as always. In this season 4 persons have touched 1 crore mark. Yesterday, contestant Ajit Kumar won 1 crore rupees. He would have won 7 crores if he could answer the final question on cricket.
Ajit Kumar who is a jail superintendent played the game confidently and Big B lauded his confidence. Amitabh Bachchan asked him a cricket related question to win the ultimate prize 7 crore rupees. However, the contestant didn't have any idea about the question and chose to withdraw from the game.
KBC 7 Crore Cricket Question
The cricket question was, " "Who is the first cricketer to score two T20 International fifties on the same day in two different matches?" The four options were Nawroz Mangal, Mohammad Hafeez, Mohammad Shahzad and Shakib Al Hasan.
The right answer to the question was option C, Mohammad Shahzad. The Afghan batsman had scored T20I fifties against Oman and Ireland on the same day. On 20 January 2017, in Desert T20 Trophy at Dubai, Afghanistan played the semi-final against Oman which was started at 10:00 AM. Mohammad Shahzad scored 80 runs in this match and helped his team to win the match.
On the same day at 7:30 PM, Afghanistan played Ireland in the final. When batting first Ireland was all-out on just 71 runs. Afghanistan had chased the target in just 8 overs with Mohammad Shahzad completing his fifty. He scored 52 runs and achieved a rare feat of scoring two T20I fifties on the same day.
But Ajit Kumar didn't know the answer and decided to quit the game and secured 1 crore rupees. However, Amitabh Bachchan asked him to guess an answer but he guessed it wrong. Ajit was happy that he didn't take any risk or else he would have won only 3 lakh 20 thousand if he had answered it wrong.