The International Cricket Council (ICC) released its updated roster of test rankings earlier this week. There have been some notable changes, following New Zealand's recent 2-0 whitewash over the West Indies. The Kiwi hosts moved up to the second spot and are now jointly tied on points with table-toppers Australia. 
But besides the team leaderboards, the players list also saw some interesting and inexplicable changes. Most notably, England pacer Stuart Broad moved up one spot to second place. His ascension came at the expense of New Zealand pacer Neil Wagner's demotion, who dropped down to number two. 
Stuart Broad has displaced Neil Wagner to recapture the No.2 spot in the latest @MRFWorldwide ICC Test Player Rankings for bowling 👀

Full list 👉 https://t.co/OMjjVwOboH pic.twitter.com/HYX1c6A5FH

— ICC (@ICC) December 15, 2020
But what's really interesting, is that Broad hasn't featured in a test match since August 2020! The Nottingham quick's last appearance in the whites dates back to the third test against Pakistan; where he picked up three wickets across both the inning. Wagner, meanwhile, showed good form in the just-concluded series against the Windies. The first game at Hamilton saw him finish with 6-wickets; 2 in the first innings and 4 in the second. Meanwhile, in the second match at Wellington's Basin Reserve, the left-arm-seamer picked up a 3-for and also scored his maiden half-century in tests.
Stuart Broad trolls the ICC for confusing ranking system
While not out and out stellar performances, Wagner's efforts across both matches were clinical to New Zealand's 2-nil series win. But apparently, the ICC follows a different parameter in ranking their players; as Wagner's decline on the rankings would suggest. Broad, noted for his witty social-media commentaries, questioned the ICC's ranking system in the most candid manner. 
"How? I haven't played since August (sic)", he commented on the ICC's official Instagram announcement post.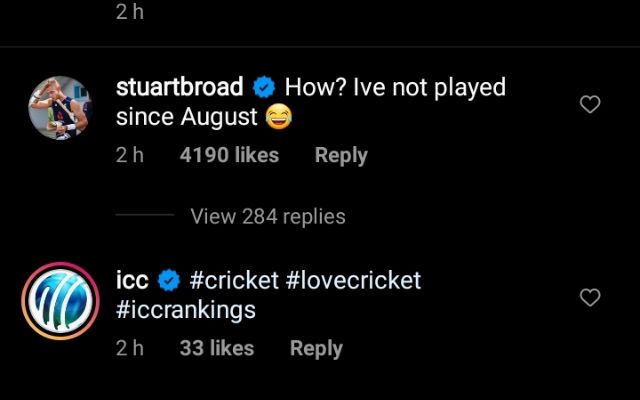 Interestingly, Broad also advanced to 10th place on the test all-rounders list, and currently has 222 points to his name. Earlier in England's home season, Broad showed an impressive return to his batting form by clubbing the West Indies for an impressive, less-than-run-a-ball 50. On the bowling front, too, the 34-year-old all-rounder acclaimed a major accolade and became the second English bowler- behind James Anderson- to claim 500 test-wickets.