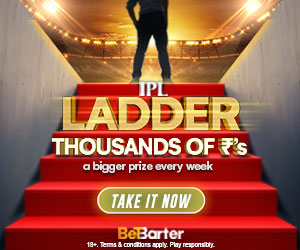 Comical Marcus Stoinis run-out grabs eyeballs in intense face-off
The passionate rivalries are one of the many factors that have lent modern-day bilateral cricket it's charisma. Watching the two oppositions having a go at one-another, verbally and psychologically challenging the breaking-points. Sure, brings out the most electrifying action on-field.
Traditionally, England and Australia have had some of the ugliest player confrontations and clashes. Be it Mitchell Johnson and Kevin Pietersen engaging in some verbal volleys back in 2013, or Jonny Bairstow 'casually' headbutting Peter Handscomb in 2017, the instances are plenty. What's more; the players seem to have a good time reminding the opposition of the circumstances that have got them or their team ridiculed.
So even though on yesterday, World Cup favourites England lost in a resounding fashion to defending champions Australia, they might have an incident that they wouldn't let the Kangaroos here the end of in the Ashes series that starts in about a month from now: the Marcus Stoinis run-out.
IT ALL HAPPENED IN THE 42ND OVER:
It all happened at the 42nd over of the Australian innings. With the score-card reading 228/5, and the presence of stalwarts like Steve Smith and Marcus Stoinis on the crease, the Australians looked well-set to cross the 300-run mark. Leggie Adil Rashid bowled his fifth delivery, a slight fuller-one, only for Smith to paddle it away at mid-off.
They easily completed the first run, and Stoinis looked eager for a second one. Smith might have obliged, if Jonny Bairstow hadn't quickly sprinted and collected the ball.
Ultimately, it was a split-second too late for Smith to run, and one too early for Stoinis to return back to his crease, the amalgamation of which caused both batsmen to be at the same crease. Rashid quickly collected the throw and delivered it to wicket keeper Jos Buttler, who knocked off the bails. Stoinis had to walk back, since he was on the wrong end.
Here's the video of how England got Marcus Stoinis run-out:
From an English perspective though, that was probably the lone bright spot they had to savour from the game. The dismissal costed Australia at least 10 to 15 runs, but England were poor in their chase. Mitchell Starc and Jason Behrendorff bowled with discipline to scalp some key wickets in the powerplay, and England lost the game by 64 runs