The virtual world is an unpredictable place to be in. While it offers a lot of ease, it can sometimes also turn into a foe for its users. Hacking of Twitter accounts is not a new thing and has been prevalent for a long time and it looks like now the Indian all-rounder Krunal Pandya has become victim of the same. The fans suspect foul-play as Krunal Pandya Tweets 9 times in 2 hours.
Krunal Pandya's account tweets bizarre comments
In one of the tweets that are doing the rounds, Krunal is selling his account in return for bitcoins. There are many tweets that don't go in tune with the tweets the cricketer generally shares and the fans are sure that the Twitter account of Krunal has been hacked. A Twitter account by the name of Drake Da Goat mentioned that Krunal may be an NBA Young Boy fan. The reply that came from Krunal was preposterous as it read, "Nah he a bitch too'.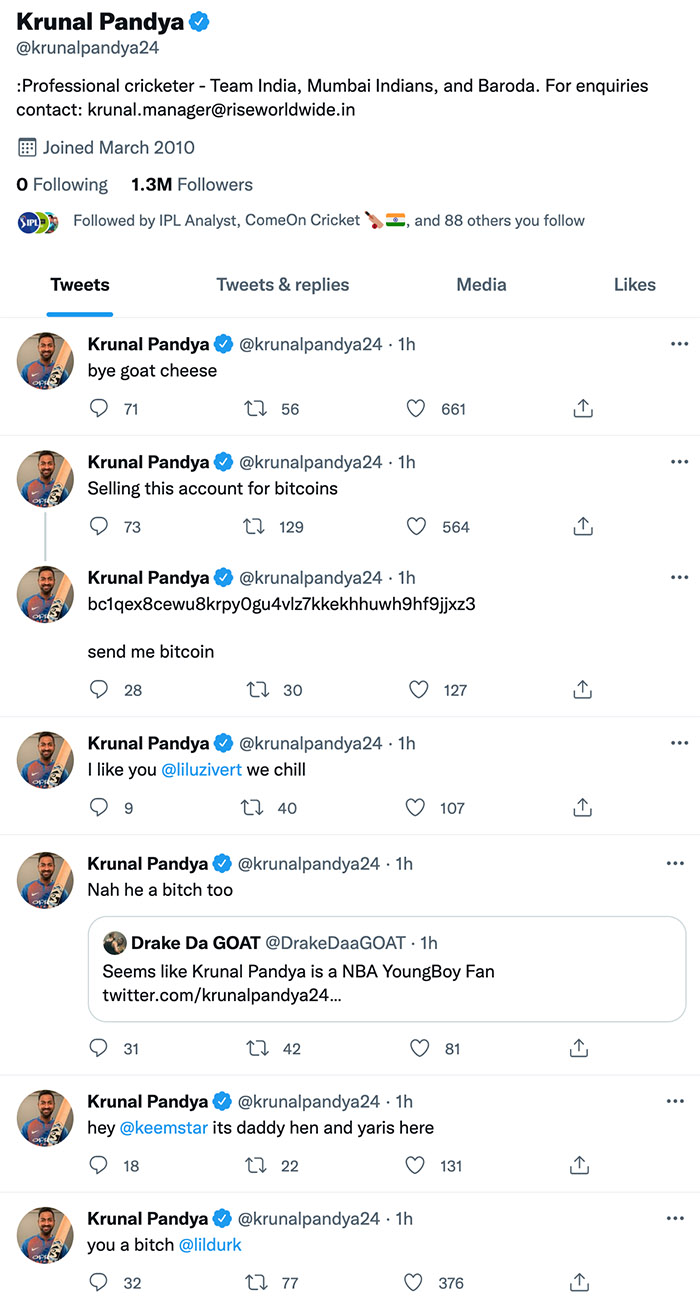 It is certain that the Twitter account of the Indian cricketer has been hacked and the Tweets that are being made are from the hacker, and not from Krunal Pandya. As for his career, Krunal was a part of the Vijay Hazare Trophy and played for Baroda, scoring 118 runs and claiming 7 wickets. The all-rounder has also been a part of the international team but hasn't been able to leave the desired impact so far.
ALSO WATCH: DJ Bravo celebrates wicket with Allu Arjun's 'Srivalli' dance steps
The left-handed batsman was a regular for the Mumbai Indians in the Indian Premier League but was not retained by them ahead of the Mega-Auction which is going to take place on 12 and 13 February. A plethora of players will be part of the auction and the franchises will bid for their favourite players. Krunal Pandya will be in action in the Indian Premier League, and it will be clear after the auctions which team he will represent in the upcoming season of the IPL.